The first GLAS event of the year was billed as a spring concert and there was definitely a spring in the step of Eoghan O'Sullivan as he took to the stage to deliver a buoyant, uplifting set of songs 'From the Bright Side' that earned him a standing ovation from a capacity attendance.
The singer-songwriter is also the stage manager at most GLAS events and though he supported Luka Bloom a few years ago, this was his debut headlining a GLAS event and he took the opportunity by the scruff of the neck to deliver an exhilarating 90 minutes-plus set which included 15 of his own songs.
His range is broad from sweet paeans of love to his own children, 'First In My Eyes' and 'My Silver Son' to rousing bluesy tunes like 'Whiskey Road' which had the entire audience clicking their fingers at his command.
His French composition 'Moi Aussi' – written at the request of a friend who has a child with Down Syndrome – was a stand-out and explains why it is being adopted by schools across the francophone world as an anthem for inclusion, respect, and kindness.
An undoubted high point was his rendition of the James Taylor classic 'You've got a friend' which had the whole audience singing along. He leavened the show with three other well chosen covers. These included terrific renditions of Luka Bloom's classic 'City of Chicago', 'Caledonia' by Dougie MacLean and a very soulful interpretation of 'In My Life' by Lennon and McCartney.
Many took great delight in his witty, well-paced ballad extolling the virtues of Geneva's first Irish pub, Mulligans, whose owner Donal O'Neill is a regular sponsor of GLAS events.
There was an unused piano and set of drums on the stage in Geneva's Temple de Plainpalais but they were not missed as a strong feature of the evening was O'Sullivan's relationship with his guitar, a beautiful full plangent sound that echoed through the venue.
Special guest
An unexpected highlight of the evening was when he accompanied Megan Geraty whose sweet voice delivered a lovely wistful interpretation of 'The Moon Song' by Karen O. Megan was familiar to many of the GLAS audience because as a child she was a raffle ticket seller in the early days of GLAS. In fact, all Megan's family have volunteered for GLAS over the years.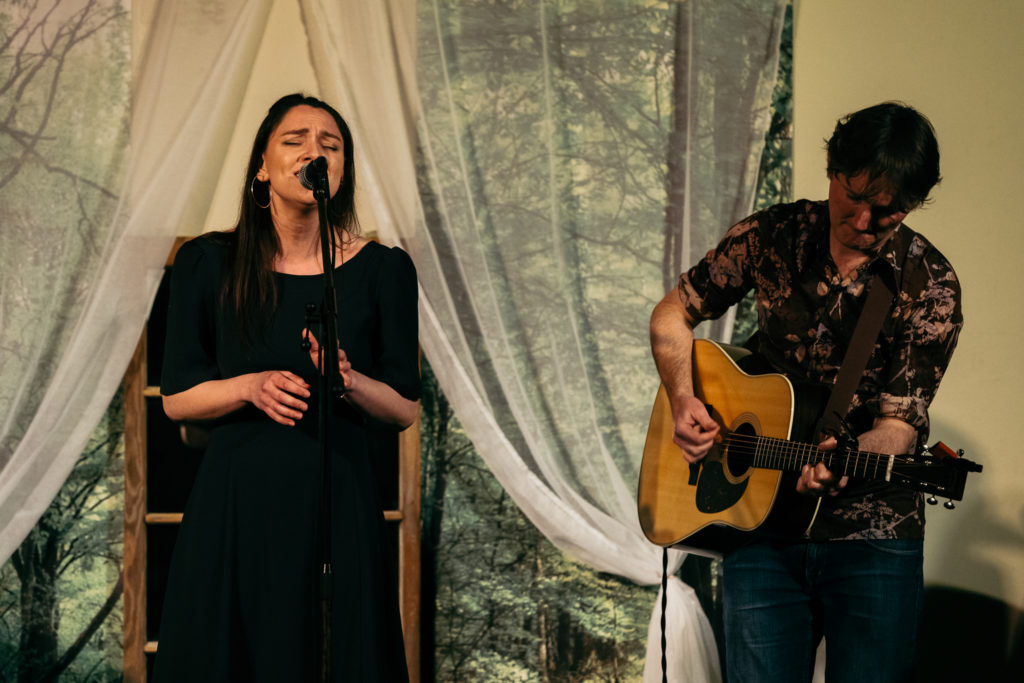 Eoghan brought the house down at the end of show when he left his guitar aside to deliver a deeply felt interpretation of that bitter sweet Irish folk song 'The Parting Glass.' All in all, it was a tremendous start to the GLAS year and raised CHF 3,000 for a very worthwhile cause, the Edith Wilkins Foundation for Street Children in Darjeeling.
Gallery
Colour photos by MaryKos Photography; black and white photos by Michael Merne. A big thank you to both!